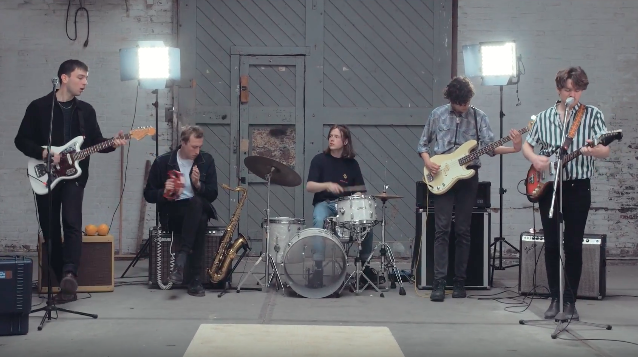 Known for their eclectic catalogue of songs and 'wall of sound' live shows, The Mighty Breaks' weapons of choice are unruly guitars, carefully crafted melodies, and the, for a garage band, unusual addition of saxophone. All five band members sing, giving each track a different feel. The Mighty Breaks' garage pop/90's alternative sound is inspired by artists like Guided By Voices, The Jesus and Mary Chain and The Dandy Warhols.
After releasing their self-titled debut EP on UK/NL based label Mink Records in 2017, they subsequently toured the Netherlands and Italy, and focused on writing and developing their music. With their debut album 'Master Club', which came out September 2019 digitally and on 12" vinyl, they delivered a solid debut record, containing the variety of influences the childhood friends communally gathered over the years. For their release show, The Mighty Breaks recreated the Italian venue 'Master Club' to celebrate the release of their album, which they say was the venue where they played their best gig ever, in their hometown of The Hague. The sold out venue featured fully curated and decorated space with a line up of (inter)national bands, receiving raving reviews from those who attended. See the pictures of the show
here. 
The Mighty Breaks will tour The Netherlands, U.K. and Italy late 2019 and early 2020. Keep an eye on their social media pages for live dates.
The Dutch national broadcaster said of debut album 'Master Club': '
As if they've been doing it for decades, so skilfully they bury 'Faking Chasing' underneath a layer of fuzz, so craftily they build up 'Quitting for a Smoke' from a casual no-nonsense composition to an explosive prize number. Only to pull that trick again with 'After All', the closing track, that tickles the tear ducts with its piano-outro. 'Master Club' (Mink Records) has already proven itself to be a timeless record'.
–
3VOOR12
'The Mighty Breaks outdo themselves with the sublimely constructed single 'Quitting For A Smoke'. We already had a good feeling about the The Mighty Breaks' new material, but what the band proves with their new single exceeds even our expectations. And that does not mean that they were low, quite the contrary.' – The Daily Indie
"In 'Faking Chasing' we hear sweet harmonies that sometimes remind us a bit of the Beatles, although the raw guitars are more like The Jesus and Mary Chain, which according to the band are a great source of inspiration." – Noisey
'Garage pop from Voorschoten that is somewhere between the melancholic bliss of The Byrds and The Walkmen' – Drowned in Sound (U.K.)
'The Mighty Breaks is a garage rock band from the Netherlands, which contains members of Indian Askin and Torii. The guitar parts in 'Faking Chasing' are interspersed with the saxophone-enhanced vocals. Looking at the music video, this band comes across as a solid collective, bringing us exciting music.' – Niche Music (Japan)
Contact The Mighty Breaks
Watch & listen
Released on Mink Records
The Mighty Breaks in our webshop