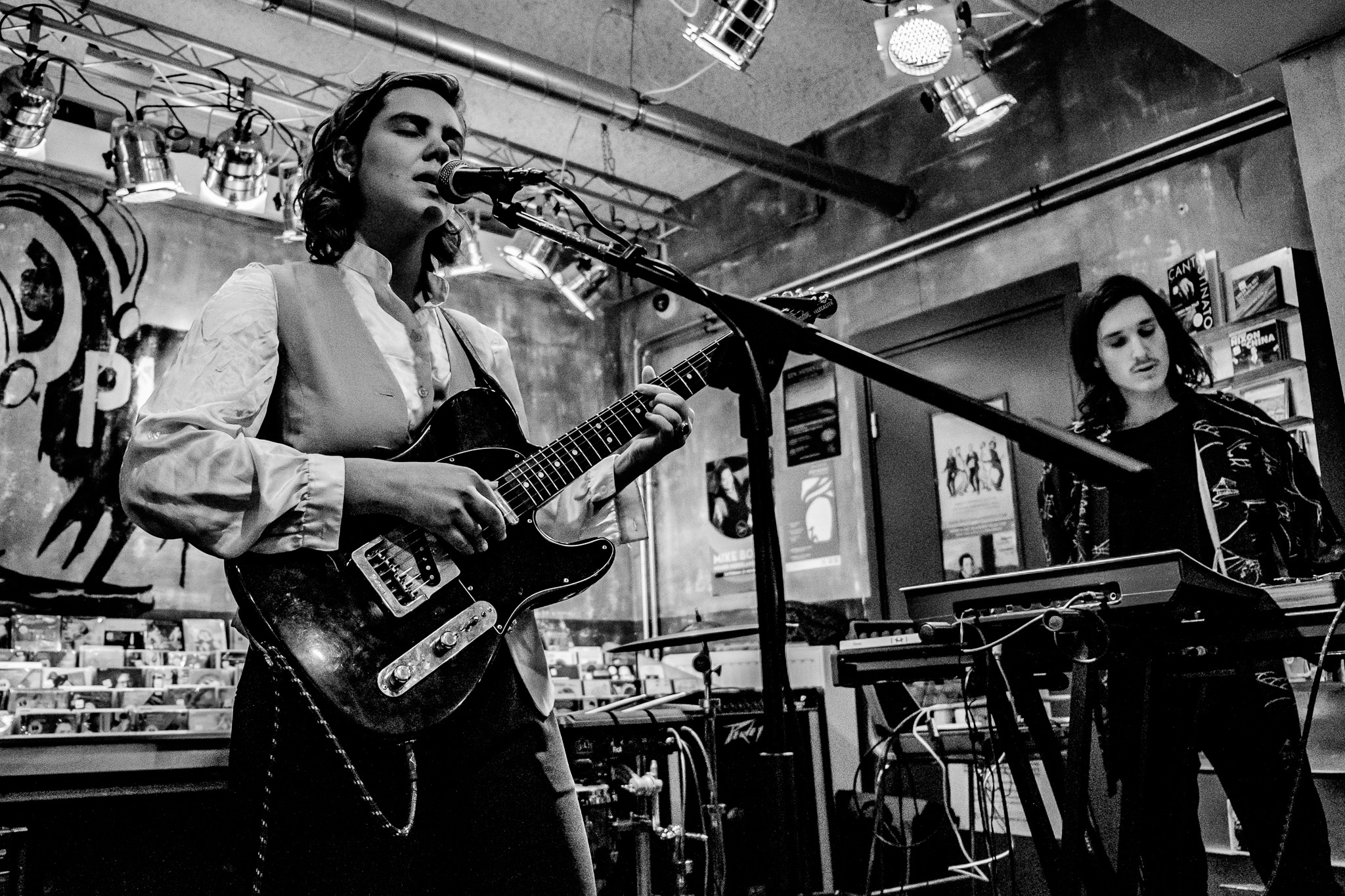 The Visual is an Amsterdam-based outfit consisting of Anna van Rij (vocals/guitar), Timon Persoon (synths/electronics/keys) and Tim van Oosten (drums/percussion). Signed to Mink Records in 2017, they released their debut EP 'Translation' on December 15th 2017 at packed show at one of Amsterdam's finest venues: de Melkweg. With premieres, reviews and interviews on tastemaker platforms like Noisey, i-D Magazine, 3VOOR12, The Daily Indie and more, they became one of the most talked-about new acts in The Netherlands.  A strong live reputation developed after playing a number of prominent Dutch festivals and venues like Grasnapolsky, Le Mini Who?, and Paradiso Noord. Late 2018 saw the release of the two first singles from their debut album – 'Figure' made it onto the 3FM Radio Alternative Playlist, and the accompanying music video was premiered on UK blog Gigwise. 'Under My Skin' followed, and was placed in New Music Friday and New Alternative playlists by Spotify, and premiered at 3VOOR12 – who followed up a few weeks later, naming the Visual one of the '12 of 3VOOR12′ promising upcoming acts in the Dutch music scene expected to break through in 2019 after a successful show at 'The Song of The Year' celebration at Tivoli Vredenburg, Utrecht. March 31st will see the release of their debut album 'Moments of Being', available on 12" vinyl and CD for the first time at the release show at Bitterzoet, in their native Amsterdam. 
The Visual​​ revolves around our most acute perceptions. Our awakenings. Our sense of being. Like a living organism, their music traverses and wanders out on its own. "I opted for a word that was clear, open and non-partisan," singer/guitarist Anna Van Rij explains. "The idea of entering a new experience. It was all very instinctive." With co-founder Timon Persoon, the Amsterdam-based unit has become a vehicle where the more elusive, specific experiences and observations are expressed in this very intrusive, tactile fashion.
Van Rij met Persoon while studying at Amsterdam's Conservatory. Interestingly enough, before even a single musical note was exchanged, she subconsciously knew she wanted to create music with him. Outside of their semesters, they created a very singular musical vocabulary together. Van Rij would recite the poetry of Sylvia Plath over Persoon's mesmeric sonic backdrops. Alternately, they would dream up fictional soundtracks of their favourite film scenes. Together, they had built this pocket universe, untethered from theory or stylistic boundaries. Free expression, in even its most outrageous forms, had absolute precedence.
In many ways, that principle has remained intact in making The Visual's debut LP ​Moments Of Being​. From its first prowling flourishes, opening cut 'Moment Of Being' demands your attention. Instead of waiting for the climax of the album to confront her deeply hidden fears, Van Rij establishes a hard-earned growth and self-acceptance from the outset. 'Moment Of Being' is not exactly a succinct verse-chorus-based construct, but a candid reflection of years of soul searching, gradually sloping and ascending with creeping tensions and skulking silences. The song's finale preens with sheer inner belief, unshackling from the toxic patterns of fear and doubt with penetrative aural abandon. 'We both wanted to add more elements of noise and texture,' Van Rij assesses. 'The deep synths we added on 'Moment of Being' lift the entire song upward. If that element wasn't there, the impact wouldn't've been the same. It gives the song this extra surge of energy."
After extensive recording sessions in Antwerp's ICP Studios with producer Reinhard Vanbergen (Das Pop), drummer Jochem van Rooijen (Keith Caputo) and bass player Martijn LeNoble (Jane's Addiction, Marianne Faithfull), Van Rij and Persoon felt the need to bring the songs back into their creative sanctuary. Strings were replaced by Persoon's dissonant, chimerical synth tapestries, whereas Van Rij added strange vocal textures to give the music a more surrealistic, abstract character. After those vital finishing touches, ​Moments Of Being ​was mixed by producer Darrell Thorp (Beck, Radiohead) and musician Alain Johannes, the latter known for collaborating with luminaries like PJ Harvey and Mark Lanegan. Steve Fallone of Sterling Sound took care of mastering duties.
This impressive list of collaborators notwithstanding, The Visual remains a self-determined, sonically ambitious endeavor. Van Rij's quest to come to terms with her identity remains strongly congruent with Persoon's desire to push The Visual's sonic boundaries to exciting new territories. Once a person clears that threshold of accepting the self, that deep yearning to perceive and intensify your direct surroundings starts to sprout beneath the exterior like an intricate network of roots. And indeed, ​Moments Of Being ​highlights those strange mysteries within everyday things, things we deem so self-evident. The tender, lunar waltz of 'Stuck In A Scene', for example, finds comfort in its au courant stillness, teetering somewhere between the grandiose alley-cat romance of Sinatra's In The Wee Small Hours and Radiohead's pensive alienation.
The gripping, dub-like cadence of 'Who You Were' and the cocktail lounge beckon of 'Open Your Eyes' suspend your awareness of time, as Van Rij's arresting vocals leave you staggered in anticipation of each syllable leaving her lips. The Visual is a much an outward as an inward pursuit; while introducing new sonic elements on ​Moments Of Being,​ Van Rij found guidance in German-Jewish author and philosopher Hannah Arendt, whose work often emphasizes the need to understand over skin-deep judgments.
On ​Moments Of Being,​ The Visual assert patience in unraveling their truths, little by little. The songs were all written throughout a four-year period in which Van Rij slowly but surely transforms her vulnerability towards the outside world into a life-affirming empathetic force. "I have been listening too long to those submissive voices because I was afraid of people who wanted to exercise power over me. I have finally accepted I won't let that happen again. Even though the outside world exists and moves on, I have to remain faithful to who I am and continue to listen to myself. That whole phase, captured in all these songs, is about that encompassing feeling, the necessity to withdraw and give yourself a certain freedom. And writing this album helped me a lot with this process. "
Live video: 'Figure':
Article with i-D Magazine (in Dutch). 
Reviews:
• 'We'll end the year with a prediction of the future: we predict The Visual is looking at a golden future. Perhaps platinum. Those who have seen the trio live, can affirm that something magical happens on that stage. And not just on stage. After the release of the first two singles from their upcoming debut record, we can say that the magic transfers to recordings too'. (PINGUIN RADIO)
• 'Anna van Rij's voice, cool and evanescent as the morning dew, veers between melancholy lethargy and emotionally wrought upper-register bends. Partner in crime Timon Persoon does his 'voodoo soundman' bit on keys, crafting a proper three-dimensional sound landscape at the tender locus of soundtrack and songwriting'. (GIGWISE)
• 'What a suiting name this Jeff Buckley, The XX, Nick Cave-like collective chose for themselves. Upon closing your eyes to their music you find yourself in the cinematic universe of David Lynch.' (OOR Magazine)
• 'The Visual's emotionally-laden and dynamic indie hits the crowd like a bomb. The attentive audience is completely silent'. (3VOOR12)
• "We've heard two tracks so far, and they're both equally stunning. Recent single "No One Knows" is a stunning waltz reminding us of Radiohead, with a touch of jazz. Debut single titled "Lost In Translation", on the other hand, is a more sober and electronic lullaby. If the rest of the EP is as beautiful as these two gems, it should be an instant classic." (BEEHYPE)
• Van Rij's warm, full voice fills the room and fills the audience with melancholy. The well deserved applause after the show seems never-ending, waking us up from our dream-like state. (THE DAILY INDIE)
• On Fridaynight December 15th I walked into a dreamworld. The Visual's EP release at Melkweg was magical. So magical that I forgot to take pictures, forgot to take notes. I found myself fully immersed in this performance. The chemistry was great, it was unbelievably integer, beautiful, and powerful. Very powerful. (THE DAILY INDIE)
• 'Honestly. It's a good EP. Listening to it numerous times may not aid an overarching understanding of its goals. I sense it is that very evasiveness the EP so longs to portray. It does so brilliantly.' 8 out of 10 (CRASH)
Contact The Visual
Watch & listen