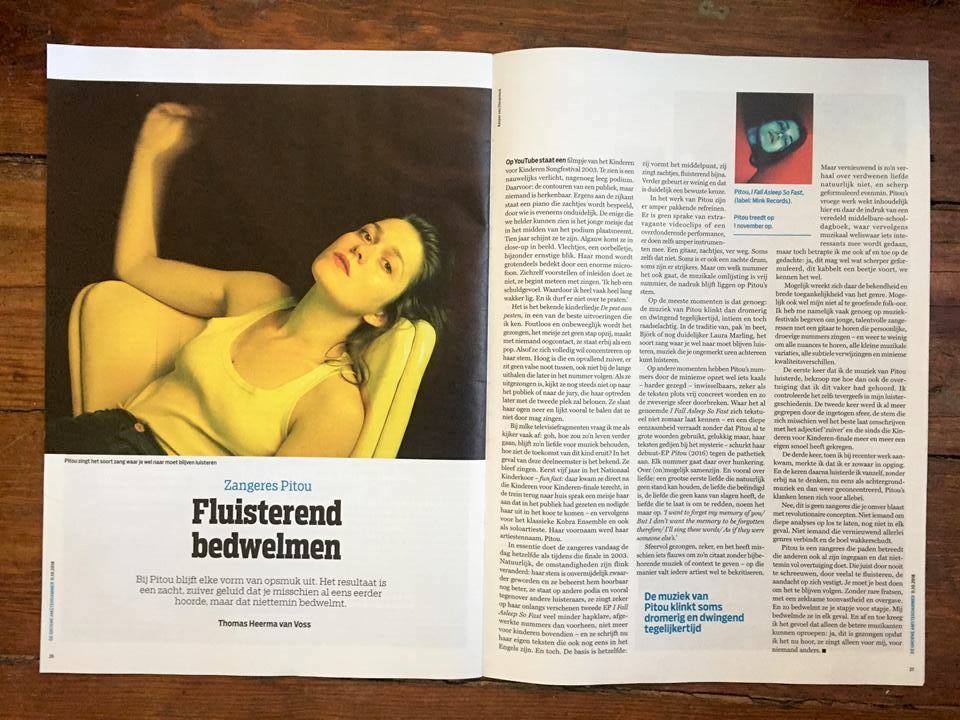 The music of Amsterdam-born musician Pitou is characterised by her highly distinctive voice, unique compositions and the use of vocal harmonies as an instrument in themselves. Since she was a baby, her parents were regularly travelling to places such as Cameroon and India, with her and her sister in tow. Each year, they would head back to The Netherlands carrying cassette tapes filled with the sounds they had picked up on their overland adventures. Despite her early introduction to more worldly sounds, it was an entirely different genre of music that shaped Pitou's songwriting craft. She started to develop an unexplainable interest in classical music from a very young age. Her father would often find her crouched down by the radio, scrolling through stations. From the age of 9, Pitou sang in a children's choir. She performed at the baptism of Catharina-Amalia, the Princess of the Netherlands, singing the Matthaus Passion. ​At the relatively late age of eighteen Pitou discovered pop, rock and the guitar – the songs came quickly after, carrying influences from her classical past.
Her highly anticipated self titled folk pop debut EP was released on Mink Records (10" vinyl, cd & digital) on the 8th of September 2016, during a sold out release show in the Vondelchurch in Amsterdam – the record was aptly described by the Independent as 'Intelligent folk-pop that balances the darkness and light of human emotion.' The debut took the Amsterdam and beyond by storm, receiving widespread praise from national and international press, being described as an unexpected gem, seemingly arising out of nowhere. Tours throughout The Netherlands and U.K. followed, as did a performance on national Dutch television. In 2017 Pitou was named one of the 12 talents for 2018 by 3VOOR12, the Dutch national broadcaster's music branch, and British newspaper The Independent declared her 'One To Watch in 2018'. 
Late 2017 saw the release of new material: singles 'Problems' and 'Give Me A Glass' were well received by streaming and radio, receiving praise radio stations and music blogs all over Europe, including BBC 6 Music (where Pitou played a live session in the studio), BBC Radio 1, Radio FIP (FR), Radio 1 (BE), 3FM (NL) and more.
In May 2018 the new singles were finally followed by the release of Pitou's mini-album, 'I Fall Asleep So Fast' (Mink Records, available on 12" vinyl, CD and digitally), celebrated during a sold out release show in native Amsterdam, and followed by an (inter)national tour. A selection of the reviews it received can be found below. 
In 2019 Pitou introduced 'Lost Lines' – a concert series with Binkbeats and Mischa Porte, in which they improvise with unused words from writers and musicians such as Spinvis, Wende, Toon Tellegen, De Staat, and more. She has also confirmed she is working on her next album.​​
Press:
" Amsterdam-born artist Pitou has one of the most arresting voices to emerge from this year, drawing comparisons to the likes of Laura Marling and Julia Holter, crafting intelligent folk-pop that balances the darkness and light of human emotion." – The Independent ​
It's not just an extraordinary vocal performance, it's the details in the lyrics. You can follow it like a conversation, despite it being very detailed. That doesn't usually happen. This has come from somewhere very instinctual. It's really stunning. – Guy Garvey (Elbow/BBC6)
Rising Dutch star Pitou is absolutely sensational, layering harmonies with her two backing singers that one can only soak up and applaud. – Clash Magazine
Regimented but gentle. Mechanical but empathic. Like Tinkerbell serenading you from the far side of a wormhole, or an archangel contemplating eternity in some heavenly hall of mirrors. – Gigwise
One of the most arresting voices to emerge, Amsterdam-born artist Pitou has earned comparisons to singers such as Laura Marling and Julia Holter thanks to her intelligent brand of folk-pop. – The Independent
Capturing an intellectual restlessness within her indie-folk songwriting, it's the marriage of the two that makes Pitou such a spellbinding prospect.- Line of the Best Fit
Sometimes, the best music is created from the barest of elements. Not many are capable of such simplicity, but rising Dutch artist Pitou is; just a few haunting notes are enough to convince that she's a star in waiting, possessor of a rare voice and extraordinary songcraft. – Europavox
Contact
Website / Facebook / Bookings / Press
Watch & listen
Released on Mink Records
Pitou in our webshop